Zestaw 2 Camelia Japonica
Zestaw 2 Camelia Japonica
d
h
m
s
Odporne na niskie temperatury
Camelia Japonica doskonale odnajdzie się w każdym ogrodzie lub na tarasie. Te piękne, zimozielone rośliny o ciemnozielonych liściach pochodzą – jak łatwo się domyślić – z Japonii. Właśnie tam, a także w Chinach i Wietnamie, róże te rosną wysoko w górach. Dzięki temu kamelia jest odporna na niskie temperatury, więc również podczas surowych zim cieszy ona oko swoimi zielonymi liśćmi.
Swoje najpiękniejsze różowo-czerwone barwy kwiaty te przybierają od lutego do maja. Dzięki doskonałej wysokości wynoszącej 60-70 cm w momencie dostawy i dużej ilości pąków możesz więc od razu cieszyć się tymi radosnymi kwiatami. Camelia Japónica najbardziej lubi lekko kwaśne, bogate w próchnicę ziemie, a latem preferuje wilgotne podłoże i stanowiska w półcieniu. Kamelie nie wymagają częstego przycinania i mogą rosnąć zarówno na otwartej przestrzeni, jak i w doniczce. Również taras Twojego mieszkania może więc rozpromienić się dzięki temu nowemu nabytkowi!
Do 3 metrów wysokości
Dostarczane w wysokości 60-70 cm
Mogą osiągać wysokość 3 m i 1,5 m szerokości
Doniczki ozdobne nie są dołączone do zestawu.
Dostarczana w doniczce o średnicy 19 cm i pojemności 3 litrów.
Wysyłka
Wysyłka wliczona w cenę.
Przewidywany czas dostawy: 10 dni roboczych.
Po wysłaniu zamówienia zarówno od dostawcy, jak i od nas otrzymasz wiadomość e-mail z kodem śledzenia, który umożliwi monitorowanie swojego zamówienia online. Dokładnie sprawdzaj swoją pocztę e-mail, w tym folder spam, aby wiadomości te nie pozostały niezauważone. Jeśli zdecydowałeś(-aś) się na dostawę do punktu odbioru, odbierz swoją przesyłkę jak najszybciej, aby Twoje rośliny nie zwiędły.
Dział Obsługi Klienta i Zwrotów: Outspot, na adres helpdesk@outspot.pl
Ustawowa gwarancja ma zastosowanie za pośrednictwem Outspot.
×
What our customers say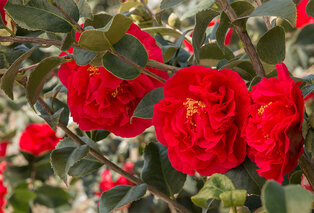 Zestaw 2 Camelia Japonica
Unique: 100% money-back guarantee
It's unbelievable, but it's true. You never have to worry again when buying an experience for your friends, colleagues, family or for yourself. If you have second thoughts or if the recipient is not completely happy with the gift voucher, no problem at all.That's because at Outspot.be you can revoke your purchase up to 6 months after ordering it! So you or the recipient of the voucher will receive a full refund within that 6-month period, without any hoops to jump through. This guarantee is naturally only valid insofar as the voucher has not yet been reserved, used or has expired. What a truly unique and exceptional guarantee. But, after all, that's what Outspot is like. Please note: the guarantee does not apply if the refund guarantee is not explicitly stated on any special offer, as in some cases we are unable to reclaim the delivery/tickets from our partners.
Close
Free returns
Are you not as happy as expected with the product you ordered? Then contact our helpdesk within 30 days of receiving it and you can return the purchase free of charge. It doesn't matter what the reason is! We'll refund your purchase and you can order anything you wish, hassle-free. Just another great idea, from Outspot of course!
Close
Open day title
Come and test your divan next Saturday, 11 November, between 14.00 and 17.00 during our open day at the Crowne Plaza Hotel in Antwerp. Discover the different sizes and models and enjoy a cup of coffee or cool drink while listening to our expert advice.
Have you already completed your purchase but you're not convinced by its merits during the open day? No problem, it's risk-free! While we are certain that our divans will steal your heart, we'll be happy to refund your voucher if you are in anyway unsatisfied. So don't dither, order your new bed now and come and test it out in Antwerp!
Close