XL European fan palm - Chamaerops Humilis
d
h
m
s
Tropical touch for the summer
A nice, summery atmosphere in your garden or on your terrace? You can create that with this XL Chamaerops palm. A cocktail in your hand, sunglasses on your nose and you imagine yourself to be in the tropics.
The Chamaerops Humilis is one of the most common palm species in Northern Europe, where it grows to a height of 3 to 4 metres. In southern Europe it can reach up to 5 m in height. The palm is strong and hardy to -13°C. It is a shrubby palm, so it grows both vertically and horizontally. Moreover, this palm requires little maintenance.
Your palm becomes even more beautiful, greener and fuller when you feed it with Pokon palm food. You can buy this as an optional extra. The essential nutrients keep your palm healthy.
Brighten up your garden or balcony with this palm and imagine yourself somewhere on a warm island. Let the sun shine!
Plant height
At delivery the palm is 70-80 cm high (including plastic pot) and 3-4 years old.
Pot size: 21 cm diameter
In Northern Europe it grows up to 4 m. In Southern Europe up to 5 m.
Hardy to -13°C
Care
Place the palm in a sunny, light spot in well-drained soil.
The palm does not tolerate wet feet, but may need a little extra water on hot, dry days.
Plant in open ground or in a pot (give the plant plenty of room in an ornamental pot).
Delivery
Click on 'Order now', fill in your details and pay. You will receive your order confirmation by email.
Expected delivery time: 10 working days
As soon as your parcel is on its way, you will receive an email with a tracking code from both the supplier and us, allowing you to track your order online. Please check your email (including spam) to make sure you don't miss it. If you are not at home, we will deliver your order to the nearest pick-up point. Pick up the package as soon as possible so that your plants don't wilt.
Customer service:

Questions about your order? Contact Outspot via helpdesk@outspot.ie
Questions about delivery and after sales service? Contact Perfect Plant Deal, can be reached via service@perfectplantdeal.nl. Please include your order code in all communication.

There is no guarantee on plants. No returns possible.
×
What our customers say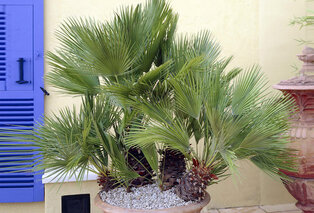 European fan palm
Unique: 100% money-back guarantee
It's unbelievable, but it's true. You never have to worry again when buying an experience for your friends, colleagues, family or for yourself. If you have second thoughts or if the recipient is not completely happy with the gift voucher, no problem at all.That's because at Outspot.be you can revoke your purchase up to 6 months after ordering it! So you or the recipient of the voucher will receive a full refund within that 6-month period, without any hoops to jump through. This guarantee is naturally only valid insofar as the voucher has not yet been reserved, used or has expired. What a truly unique and exceptional guarantee. But, after all, that's what Outspot is like. Please note: the guarantee does not apply if the refund guarantee is not explicitly stated on any special offer, as in some cases we are unable to reclaim the delivery/tickets from our partners.
Close
Free returns
Are you not as happy as expected with the product you ordered? Then contact our helpdesk within 30 days of receiving it and you can return the purchase free of charge. It doesn't matter what the reason is! We'll refund your purchase and you can order anything you wish, hassle-free. Just another great idea, from Outspot of course!
Close
Open day title
Come and test your divan next Saturday, 11 November, between 14.00 and 17.00 during our open day at the Crowne Plaza Hotel in Antwerp. Discover the different sizes and models and enjoy a cup of coffee or cool drink while listening to our expert advice.
Have you already completed your purchase but you're not convinced by its merits during the open day? No problem, it's risk-free! While we are certain that our divans will steal your heart, we'll be happy to refund your voucher if you are in anyway unsatisfied. So don't dither, order your new bed now and come and test it out in Antwerp!
Close