Volautomatische Sinji robotstofzuiger met dweilfunctie
d
h
m
s
Jouw oplossing voor een perfect schoon huis
Waarom zelf zwoegen en zweten om je huis schoon te krijgen als je het werk aan een ander kan overlaten? Deze volautomatische robotstofzuiger neemt dit vervelende karweitje graag van je over! Installeer je op de bank, voetjes omhoog en het stof verdwijnt voor je ogen.
Model: Sinji BR150
Zuigkracht: 650 Pa standaard / 1000 Pa turbo
4 programma's:

Automatisch
Spiraal
Langs de wand
Handmatige bediening
Slimme sensoren
Dankzij de slimme anti-botssensoren herkent jouw nieuwe poetshulp alle hindernissen en stoot hij niets om. En de 3 anti-valsensoren zorgen ervoor dat hij de trap niet afdondert. Is je poetshulp na anderhalf uur een beetje moe? Dan rijdt hij automatisch terug naar het laadstation. Natuurlijk kan je hem ook zelf opladen via het laadstation.
5 anti-botssensoren
3 anti-valsensoren
Werktijd ca. 90 minuten
Oplaadtijd: 4-5 uur
Geluidsniveau: max. 65 dB
2500 mAh batterij
Dweilfunctie
Deze robot is niet alleen een stofzuiger, maar ook een dweilmachine! Zo is je vloer meteen brandschoon en vlekvrij. Vul gewoon de watertank en hij kan beginnen dweilen. Achteraf spoel je de tank uit en zie daar: hij is al klaar voor de volgende opdracht. Bovendien rijdt hij makkelijk onder alle meubels door dankzij zijn strak design.
Capaciteit watertank: 230 ml
Afmetingen: 30 x 30 x 7,4 cm
Gewicht: 2,5 kg
Uitneembaar stofreservoir met HEPA-filter
Het stof wordt verzameld in het praktische, uitneembare stofreservoir. Dit leeg je eenvoudigweg in de vuilnisbak. Je nieuwe poetsvriend bedienen kan via de gratis app en de bijgeleverde afstandsbediening. Of je vraagt het gewoon aan Alexa of je Google Assistant natuurlijk. Het is hoog tijd voor een poetsrevolutie in huis!
Capaciteit stofreservoir: 200 ml
Bediening via gratis app, afstandsbediening of spraakbediening
Geschikt voor het reinigen van oppervlakken binnenshuis: tegels, hout, keramiek
Inhoud
Robotstofzuiger
Oplaadstation
Adapter
Afstandsbediening
2 batterijen
2 zijborstels
1 schoonmaakborstel
Optioneel accessoirepakket
4 extra borstels,
2 extra dweilpads
5 extra HEPA-filters
Verzending
Gratis bezorgd.
Verwachte levertijd: 10 werkdagen
Je krijgt een mail met traceercode zodra je bestelling onderweg is.
Volg je pakket of bekijk je bestellingen via www.outspot.be/nl/mijn-aankopen
Heb je een vraag? Mail naar helpdesk@outspot.be
Vermeld je ordercode bij alle communicatie.
Wettelijke garantie van toepassing via Outspot.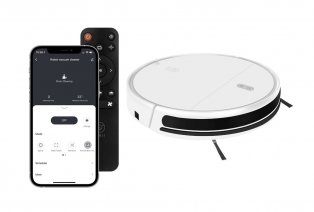 Robotstofzuiger
Unique: 100% money-back guarantee
It's unbelievable, but it's true. You never have to worry again when buying an experience for your friends, colleagues, family or for yourself. If you have second thoughts or if the recipient is not completely happy with the gift voucher, no problem at all.That's because at Outspot.be you can revoke your purchase up to 6 months after ordering it! So you or the recipient of the voucher will receive a full refund within that 6-month period, without any hoops to jump through. This guarantee is naturally only valid insofar as the voucher has not yet been reserved, used or has expired. What a truly unique and exceptional guarantee. But, after all, that's what Outspot is like. Please note: the guarantee does not apply if the refund guarantee is not explicitly stated on any special offer, as in some cases we are unable to reclaim the delivery/tickets from our partners.
Close
Free returns
Are you not as happy as expected with the product you ordered? Then contact our helpdesk within 30 days of receiving it and you can return the purchase free of charge. It doesn't matter what the reason is! We'll refund your purchase and you can order anything you wish, hassle-free. Just another great idea, from Outspot of course!
Close
Open day title
Come and test your divan next Saturday, 11 November, between 14.00 and 17.00 during our open day at the Crowne Plaza Hotel in Antwerp. Discover the different sizes and models and enjoy a cup of coffee or cool drink while listening to our expert advice.
Have you already completed your purchase but you're not convinced by its merits during the open day? No problem, it's risk-free! While we are certain that our divans will steal your heart, we'll be happy to refund your voucher if you are in anyway unsatisfied. So don't dither, order your new bed now and come and test it out in Antwerp!
Close