Set van 2 compacte bankkaartbeschermers
d
h
m
s
Sterke aluminium uitvoering
Niets zo vervelend als aan de kassa staan terwijl je bankkaart het laat afweten. Na drie keer proberen is de kaart nog steeds onleesbaar. De rij wachtenden achter jou wordt langer en langer ... Je hebt ook te weinig cash geld bij. Ken je deze situatie? De aluminium bankkaartbeschermer is dé oplossing.
De cardholder in een sterke aluminium uitvoering beschermt je bankkaarten tegen breuken, slijtage en fraude. Met een RFID-lezer kunnen dieven waardevolle informatie, die op je kaarten staat, stelen. Door de aluminium behuizing van dit product, wordt dit probleem voorkomen. Zo kom je nooit meer voor verrassingen te staan aan de kassa.
Het accordeonontwerp creëert veel ruimte waardoor pasjes, bankkaarten en je rijbewijs overzichtelijk gerangschikt zitten. Bovendien is het dankzij de harde behuizing onmogelijk om de gegevens op je identiteitskaart of kredietkaart te stelen. Deze blokkeert namelijk RFID-tags. Kortom, bestel meteen de aluminium bankkaartbeschermer!
Plaats voor 12 pasjes
Aluminium behuizing
Compact formaat: 11 x 7,5 x 2 cm
Voorzien van 6 compartimenten (totale ruimte voor 12 pasjes)
Verzending
Gratis bezorgd.
Verwachte levertijd: 10 werkdagen.
Je krijgt een mail zodra je bestelling onderweg is.
Volg je pakket of bekijk je bestellingen via www.outspot.be/nl/mijn-aankopen.
Heb je een vraag? Mail naar support@allesmobiel.nl
Vermeld je ordercode bij alle communicatie.
Wettelijke garantie van toepassing via AllesMobiel.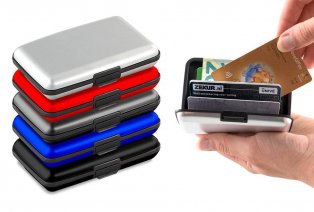 2 bankkaartbeschermers
Unique: 100% money-back guarantee
It's unbelievable, but it's true. You never have to worry again when buying an experience for your friends, colleagues, family or for yourself. If you have second thoughts or if the recipient is not completely happy with the gift voucher, no problem at all.That's because at Outspot.be you can revoke your purchase up to 6 months after ordering it! So you or the recipient of the voucher will receive a full refund within that 6-month period, without any hoops to jump through. This guarantee is naturally only valid insofar as the voucher has not yet been reserved, used or has expired. What a truly unique and exceptional guarantee. But, after all, that's what Outspot is like. Please note: the guarantee does not apply if the refund guarantee is not explicitly stated on any special offer, as in some cases we are unable to reclaim the delivery/tickets from our partners.
Close
Free returns
Are you not as happy as expected with the product you ordered? Then contact our helpdesk within 30 days of receiving it and you can return the purchase free of charge. It doesn't matter what the reason is! We'll refund your purchase and you can order anything you wish, hassle-free. Just another great idea, from Outspot of course!
Close
Open day title
Come and test your divan next Saturday, 11 November, between 14.00 and 17.00 during our open day at the Crowne Plaza Hotel in Antwerp. Discover the different sizes and models and enjoy a cup of coffee or cool drink while listening to our expert advice.
Have you already completed your purchase but you're not convinced by its merits during the open day? No problem, it's risk-free! While we are certain that our divans will steal your heart, we'll be happy to refund your voucher if you are in anyway unsatisfied. So don't dither, order your new bed now and come and test it out in Antwerp!
Close