Pampas ornamental grasses
Set of three hardy Pampas ornamental grasses
d
h
m
s
Ornate Spanish plumes
We all dream of that Mediterranean tropical atmosphere in our garden. The temperatures drop from time to time, but with the Pampas ornamental grasses you can still retain that tropical feeling! Available in pink and white, these well-known ornamental grasses with their lush plumes are an absolute asset to your garden or patio.
The ornamental grasses love both full soil and a nice decorative pot on your terrace. They grow very quickly and can reach up to three metres in height. Once a year, take out the pruning shears and cut the plumes completely short and the job is done. Would you like to bring the Spanish atmosphere into your living room? Cut a few plumes and put them in a vase and you will immediately have a decorative touch in your interior.
Choose the colour that suits you best and enjoy a summer feeling for months on end with this top offer!
Evergreen and hardy
Latin name: Cortaderia Selloana
Colour: pink or white
Hardy
Evergreen
To be planted in a pot or garden
Height on delivery: 25-40 cm (including plastic inner pot)
Delivery
Click on 'Order now', fill in your details and pay. You will receive your order confirmation by email.
Expected delivery time: 10 working days
As soon as your parcel is on its way, you will receive an email with a tracking code from both the supplier and us, allowing you to track your order online. Please check your email (including spam) to make sure you don't miss it. If you are not at home, we will deliver your order to the nearest pick-up point. Pick up the package as soon as possible so that your plants don't wilt.
Customer service:

Questions about your order? Contact Outspot via helpdesk@outspot.ie
Questions about delivery and after sales service? Contact Perfect Plant Deal, can be reached via service@perfectplantdeal.nl. Please include your order code in all communication.

There is no guarantee on plants. No returns possible.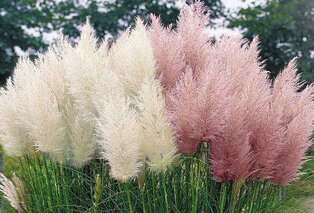 Pampas ornamental grasses
Unique: 100% money-back guarantee
It's unbelievable, but it's true. You never have to worry again when buying an experience for your friends, colleagues, family or for yourself. If you have second thoughts or if the recipient is not completely happy with the gift voucher, no problem at all.That's because at Outspot.be you can revoke your purchase up to 6 months after ordering it! So you or the recipient of the voucher will receive a full refund within that 6-month period, without any hoops to jump through. This guarantee is naturally only valid insofar as the voucher has not yet been reserved, used or has expired. What a truly unique and exceptional guarantee. But, after all, that's what Outspot is like. Please note: the guarantee does not apply if the refund guarantee is not explicitly stated on any special offer, as in some cases we are unable to reclaim the delivery/tickets from our partners.
Close
Free returns
Are you not as happy as expected with the product you ordered? Then contact our helpdesk within 30 days of receiving it and you can return the purchase free of charge. It doesn't matter what the reason is! We'll refund your purchase and you can order anything you wish, hassle-free. Just another great idea, from Outspot of course!
Close
Open day title
Come and test your divan next Saturday, 11 November, between 14.00 and 17.00 during our open day at the Crowne Plaza Hotel in Antwerp. Discover the different sizes and models and enjoy a cup of coffee or cool drink while listening to our expert advice.
Have you already completed your purchase but you're not convinced by its merits during the open day? No problem, it's risk-free! While we are certain that our divans will steal your heart, we'll be happy to refund your voucher if you are in anyway unsatisfied. So don't dither, order your new bed now and come and test it out in Antwerp!
Close