Powerful and compact 20,000mAh powerbank
d
h
m
s
Charge your smartphone or tablet anywhere
Have you ever experienced your smartphone battery running low just when you want to make that crucial phone call or take that one photo at a concert? It seems there's never an outlet available at such times. Recognisable? Then a portable charger is just what you need. Perfect for when you're on the go or going away for the weekend!
A powerbank allows you to charge your smartphone, iPhone or tablet at any location, without the need for a wall socket. This powerful and compact charger features WYG 21700 li-ion cells that are 40% more energy efficient than traditional powerbanks, ensuring high performance. A charging capacity of 20,000 mAh can charge most smartphones up to 6 times. In addition, this powerbank has both a USB and a USB-C connection, allowing you to charge two devices at the same time.
Safety is a top priority. That's why the powerbank features a surge protector with an automatic shutdown mode to protect against short circuits, over current, over charging and over discharging. The silicone outer jacket also offers robust protection against bumps and splashes.
You charge the powerbank at home first via the USB-C port. You can track the charging progress with the indicator lights. Once fully charged, you have a handy battery that lets you charge anywhere. Just plug the USB end of your charging cable into the powerbank and connect the other end to your device. That way you can keep calling, messaging and taking photos without interruption!
Powerful and compact
Brand: Veho
Type: Pebble PZ-20
20,000 mAh
Battery power: 74W/h
Battery voltage: 3.7V
Micro USB input: DC5V/2A
Input (USB-C): DC5V/2.5A, 9V/2A, 12V/1.5A
Output (USB-C): DC5V/3A, 9V/2.22A, 12V/1.67A
Output (USB): DC5V/2.4A, 9V/2A, 12V/1.5A
Water resistant
Dimensions: 148,20 x 80,50 x 31,10 mm
Weight: 445 g
Compatible with Apple and Android
Shipping
Expected delivery time: 10 working days.
You will get an email with tracking code as soon as your order is on its way.
Follow your parcel, view your orders, return or report a faulty item via www.outspot.ie/ie/my-purchases
Any questions? Send us an email at helpdesk@outspot.ie
2 year guarantee applies through Outspot.
Campaign number : 15403
×
What our customers say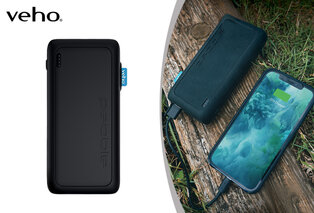 Powerful power bank
Unique: 100% money-back guarantee
It's unbelievable, but it's true. You never have to worry again when buying an experience for your friends, colleagues, family or for yourself. If you have second thoughts or if the recipient is not completely happy with the gift voucher, no problem at all.That's because at Outspot.be you can revoke your purchase up to 6 months after ordering it! So you or the recipient of the voucher will receive a full refund within that 6-month period, without any hoops to jump through. This guarantee is naturally only valid insofar as the voucher has not yet been reserved, used or has expired. What a truly unique and exceptional guarantee. But, after all, that's what Outspot is like. Please note: the guarantee does not apply if the refund guarantee is not explicitly stated on any special offer, as in some cases we are unable to reclaim the delivery/tickets from our partners.
Close
Free returns
Are you not as happy as expected with the product you ordered? Then contact our helpdesk within 30 days of receiving it and you can return the purchase free of charge. It doesn't matter what the reason is! We'll refund your purchase and you can order anything you wish, hassle-free. Just another great idea, from Outspot of course!
Close
Open day title
Come and test your divan next Saturday, 11 November, between 14.00 and 17.00 during our open day at the Crowne Plaza Hotel in Antwerp. Discover the different sizes and models and enjoy a cup of coffee or cool drink while listening to our expert advice.
Have you already completed your purchase but you're not convinced by its merits during the open day? No problem, it's risk-free! While we are certain that our divans will steal your heart, we'll be happy to refund your voucher if you are in anyway unsatisfied. So don't dither, order your new bed now and come and test it out in Antwerp!
Close