Luxe espressomachine met melkschuimer
d
h
m
s
Een heerlijk kopje koffie
Ochtend. Synoniem: koffie. Om goed wakker te worden, gaat er niets boven een vers bakje troost. En in deze bizarre tijden zetten we die best zelf, gezellig thuis. Breng je favoriete koffiebar naar jouw keuken met deze luxueuze espressomachine van Magnani!
Of je nu liever espresso, cappuccino of thee drinkt, dit apparaat kan het allemaal. Met de melkschuimer tover je melk in een oogwenk om tot luchtig schuim voor je cappuccino of latte. Thee of chocolademelk warm je snel op met de stoomfunctie.
Heeft je partner ook zin in een tas gezelligheid? Dankzij de dubbele filter zet je 2 kopjes koffie tegelijk, zodat je samen kan genieten. Bovendien ziet de kwalitatieve afwerking in roestvrij staal er goed uit in elke keuken. Maak dus maar snel een plekje vrij op het aanrecht voor je toekomstige beste vriend.
Nauwkeurige temperatuurregeling
Merk: Magnani
Verstelbare stoomknop
Dubbele roestvrijstalen filter
Uitneembaar waterreservoir van 1,5 liter
Uitneembare opvangbak
Beveiligd tegen oververhitting en overdruk
Afmetingen apparaat: 20 x 26 x 29 cm
Gewicht: 3,9 kg
Afmetingen piston: 20,5 cm x 6,5 cm x 4,5 cm (L x B x H)
Spanning: 220 V, 50-60 Hz
Vermogen: 1100 W
Krachtige drukpomp: 15 bar
Ketel van aluminiumlegering
Met NTC (Negative Temperature Coëfficiënt) voor nauwkeurige temperatuurregeling
Verzending
Gratis bezorgd.
Verwachte levertijd: 5-10 werkdagen.
Je krijgt een mail met traceercode zodra je bestelling onderweg is. Volg je pakket of bekijk je bestellingen via www.outspot.be/nl/mijn-aankopen.
Vragen? Mail naar helpdesk@outspot.be
Wettelijke garantie van toepassing via Outspot.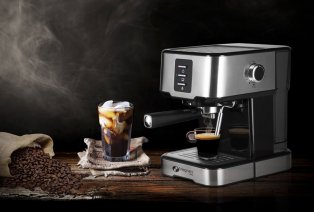 Espressomachine
Unique: 100% money-back guarantee
It's unbelievable, but it's true. You never have to worry again when buying an experience for your friends, colleagues, family or for yourself. If you have second thoughts or if the recipient is not completely happy with the gift voucher, no problem at all.That's because at Outspot.be you can revoke your purchase up to 6 months after ordering it! So you or the recipient of the voucher will receive a full refund within that 6-month period, without any hoops to jump through. This guarantee is naturally only valid insofar as the voucher has not yet been reserved, used or has expired. What a truly unique and exceptional guarantee. But, after all, that's what Outspot is like. Please note: the guarantee does not apply if the refund guarantee is not explicitly stated on any special offer, as in some cases we are unable to reclaim the delivery/tickets from our partners.
Close
Free returns
Are you not as happy as expected with the product you ordered? Then contact our helpdesk within 30 days of receiving it and you can return the purchase free of charge. It doesn't matter what the reason is! We'll refund your purchase and you can order anything you wish, hassle-free. Just another great idea, from Outspot of course!
Close
Open day title
Come and test your divan next Saturday, 11 November, between 14.00 and 17.00 during our open day at the Crowne Plaza Hotel in Antwerp. Discover the different sizes and models and enjoy a cup of coffee or cool drink while listening to our expert advice.
Have you already completed your purchase but you're not convinced by its merits during the open day? No problem, it's risk-free! While we are certain that our divans will steal your heart, we'll be happy to refund your voucher if you are in anyway unsatisfied. So don't dither, order your new bed now and come and test it out in Antwerp!
Close