4-pak bawełnianych T-shirtów Cappuccino
4-pak bawełnianych T-shirtów Cappuccino
d
h
m
s
Długie T-shirty
Twój T-shirt jest zbyt krótki? Przeprowadź prosty test! Załóż odpowiednio dopasowane spodnie i stań przed lustrem. Twój T-shirt leży dobrze, jeśli wystaje o kilka centymetrów za pas. Pasek jest wciąż widoczny lub nie możesz z łatwością wsadzić koszulki do spodni? Czas na nowe, dłuższe T-shirty!
Dzięki tym stylowym T-shirtom Cappuccino możesz pożegnać się z niezręcznym "dekoltem hydraulika", bo Twój brzuch, plecy i pośladki będą już zawsze odpowiednio zakryte. Dzięki wyszukanemu projektowi otrzymujesz długi T-shirt, który jest dokładnie dopasowany do Twojego rozmiaru. Oprócz tego koszulki są wykonane w 100% z bawełny – oddychającego materiału, który jest zawsze przyjemny w dotyku. Wszystko leży więc jak ulał!
Rozmiary od S do XXXL
100% bawełny
Prać w temperaturze 40°C
Do wyboru dekolt w serek lub okrągły
Rozmiary od S do XXXL
15 cm dłuższe od normalnych koszulek
Wysyłka
Darmowa dostawa
Przewidywany czas dostawy: 15 dni roboczych
Otrzymasz wiadomość e-mail, kiedy Twoje zamówienie wyruszy w drogę.
Śledź swoją paczkę lub przeglądaj swoje zamówienia za pośrednictwem www.outspot.pl/pl/moje-zakupy
Pytania? Napisz na adres helpdesk@outspot.pl
2-letnia gwarancja za pośrednictwem Outspot.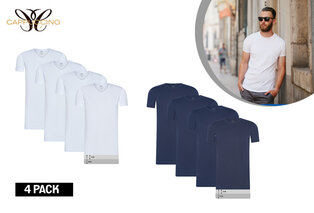 4-pak bawełnianych T-shirtów Cappuccino
Unique: 100% money-back guarantee
It's unbelievable, but it's true. You never have to worry again when buying an experience for your friends, colleagues, family or for yourself. If you have second thoughts or if the recipient is not completely happy with the gift voucher, no problem at all.That's because at Outspot.be you can revoke your purchase up to 6 months after ordering it! So you or the recipient of the voucher will receive a full refund within that 6-month period, without any hoops to jump through. This guarantee is naturally only valid insofar as the voucher has not yet been reserved, used or has expired. What a truly unique and exceptional guarantee. But, after all, that's what Outspot is like. Please note: the guarantee does not apply if the refund guarantee is not explicitly stated on any special offer, as in some cases we are unable to reclaim the delivery/tickets from our partners.
Close
Free returns
Are you not as happy as expected with the product you ordered? Then contact our helpdesk within 30 days of receiving it and you can return the purchase free of charge. It doesn't matter what the reason is! We'll refund your purchase and you can order anything you wish, hassle-free. Just another great idea, from Outspot of course!
Close
Open day title
Come and test your divan next Saturday, 11 November, between 14.00 and 17.00 during our open day at the Crowne Plaza Hotel in Antwerp. Discover the different sizes and models and enjoy a cup of coffee or cool drink while listening to our expert advice.
Have you already completed your purchase but you're not convinced by its merits during the open day? No problem, it's risk-free! While we are certain that our divans will steal your heart, we'll be happy to refund your voucher if you are in anyway unsatisfied. So don't dither, order your new bed now and come and test it out in Antwerp!
Close